How many products should you include in an email to optimize revenue?
As marketers, we have to balance the number of products we present to potential customers. Too few and you may lose sales because there aren't enough options; too many and you may lose sales due to analysis paralysis.
This is a test I do a lot with clients sending multi-product emails. We work to optimize the number of products in each template; some templates may be able to drive more revenue with fewer products.
To the right you see a sample product block wireframe (note the green background, same as in the control/test image below) from this email.
You'll see that it includes a large product image, the product name, the price or price point, and a call-to-action link. In this email, that call-to-action link was a text link that read "view online."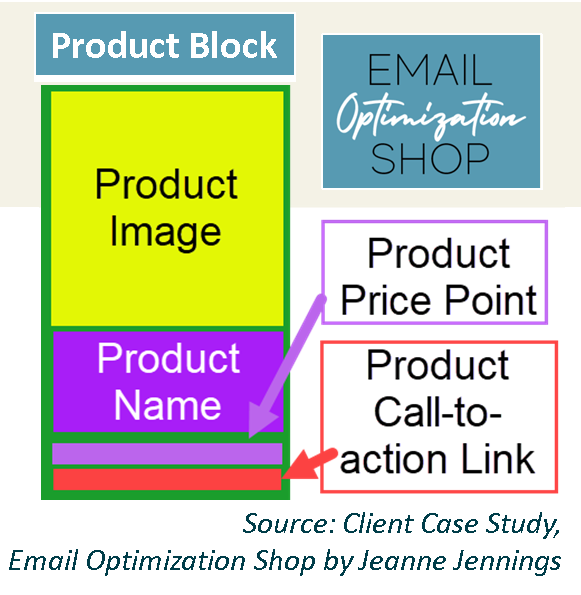 In this case study, as in many of my case studies, our starting point was an email from the previous year's campaign that performed pretty well. The original, aka our control, had a total of eight product blocks.
We decided to test fewer product blocks (5, to be exact) as well as more product blocks (11). This was done relatively early in the campaign, to give us learnings we could use every time we use this template.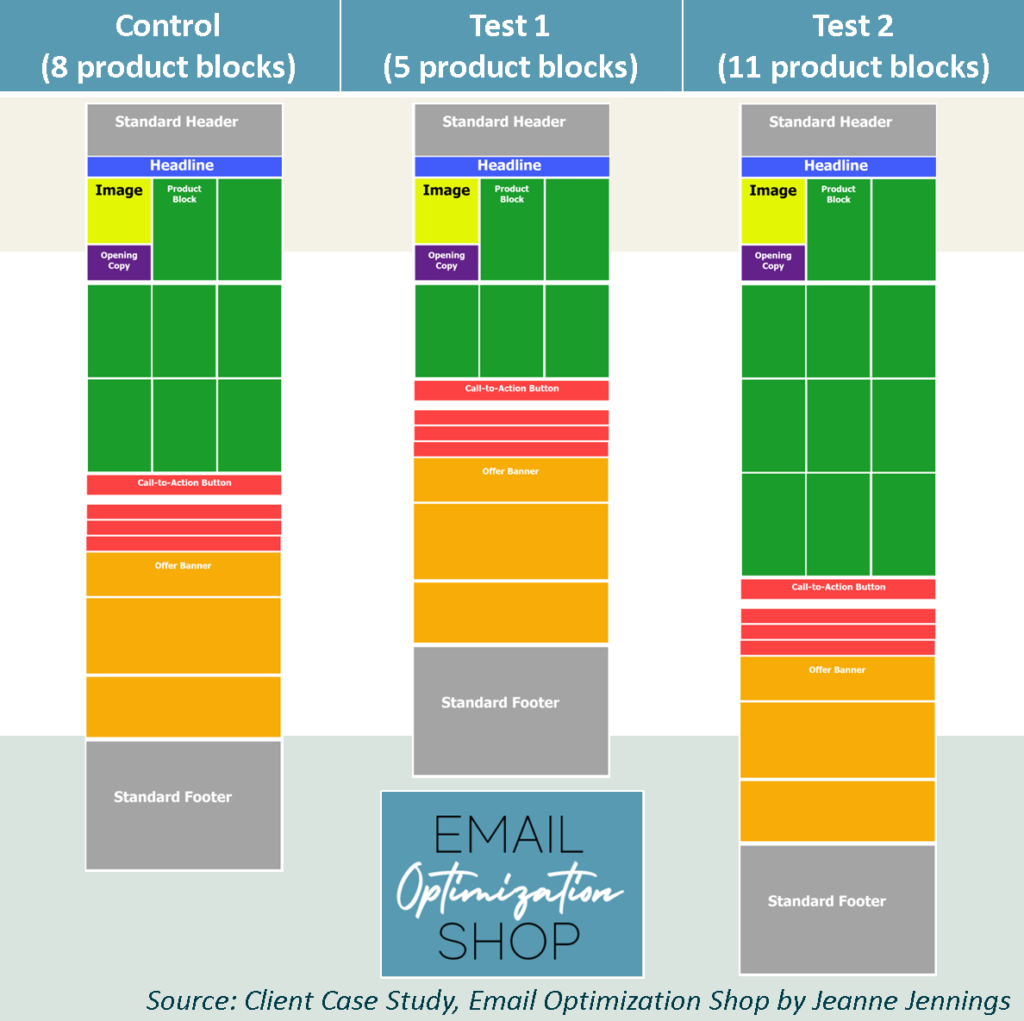 Test 1, as you can see in the image above, removed 3 of the product blocks so there were only 5. In test 2, we added 3 product blocks, taking our total products in this email to 11.
We had a send quantity of nearly 500,000, which we divided into three segments for the test. The large sample sizes will help us gain statistically significant results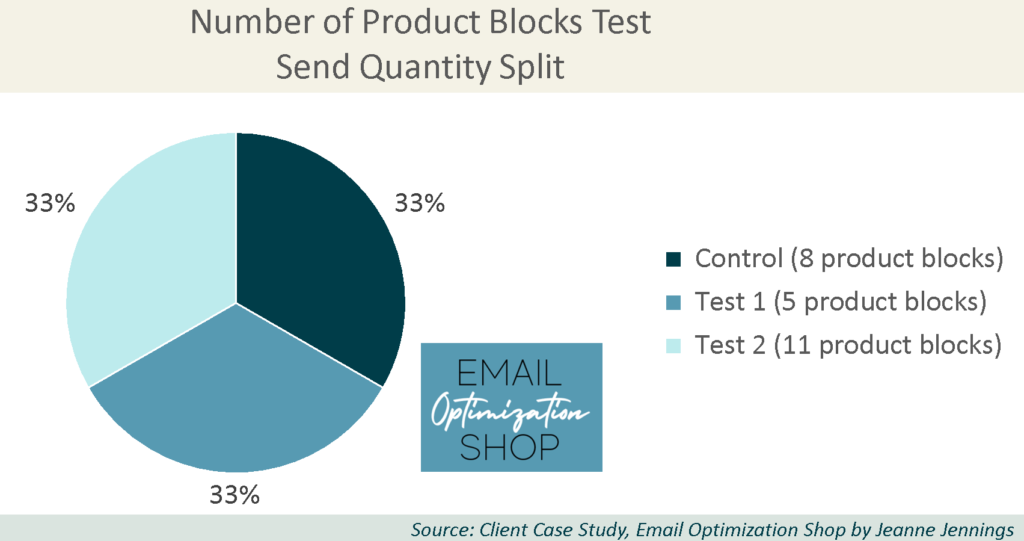 So which version won? Take a minute and consider which you believe worked better. I'll give you some dots which you can scroll through to get the results when you have your best guess.

Here are the results.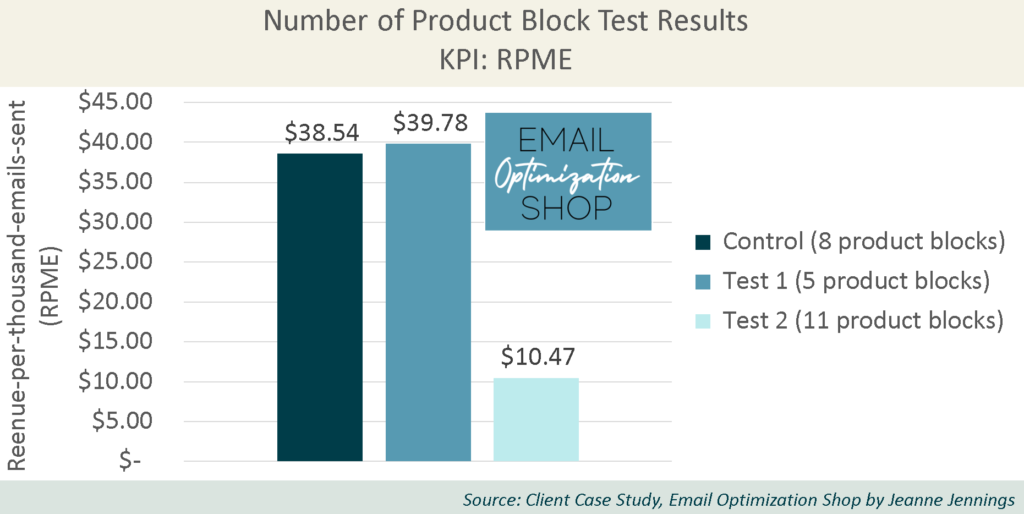 So, which version won?
It was close, but Test 1, with 5 product blocks, delivered a higher revenue-per-email (RPME), our KPI, than both the Control and Test 2. The lift on RPME was just 3%, but due to our large sample size, it is statistically significant.
Here are some more detailed results, which will tell us not only which version won, but why it won.

So why did Test 1, with 5 blocks, outperform the other versions? The key reason is average order value (AOV). As you can see, Test 1 had an AOV 151% higher than the control – just over $900, as compared to just under $400 for the control.
The only other metric where Test 1 bested the others was click-to-open rate (CTOR); the reason it 'won' here is that while the click-through rates for all three versions were the same, the open rate on Test 1 was about one-third lower than the others. So, although fewer people opened this version, a higher percentage of those openers clicked.
Take a quick look at the conversion rates. The control bested the others here, in fact its conversion rate was more than double that of the other versions. More people bought from the control – but each the AOV was less.
If you're not testing how many products to include in your email messages now's the time! Give this a try with your next email campaign and let me know how it goes!
Feeling overwhelmed? Let's talk about how I can help you improve the bottom-line performance of your email with strategies and tactics like this one.